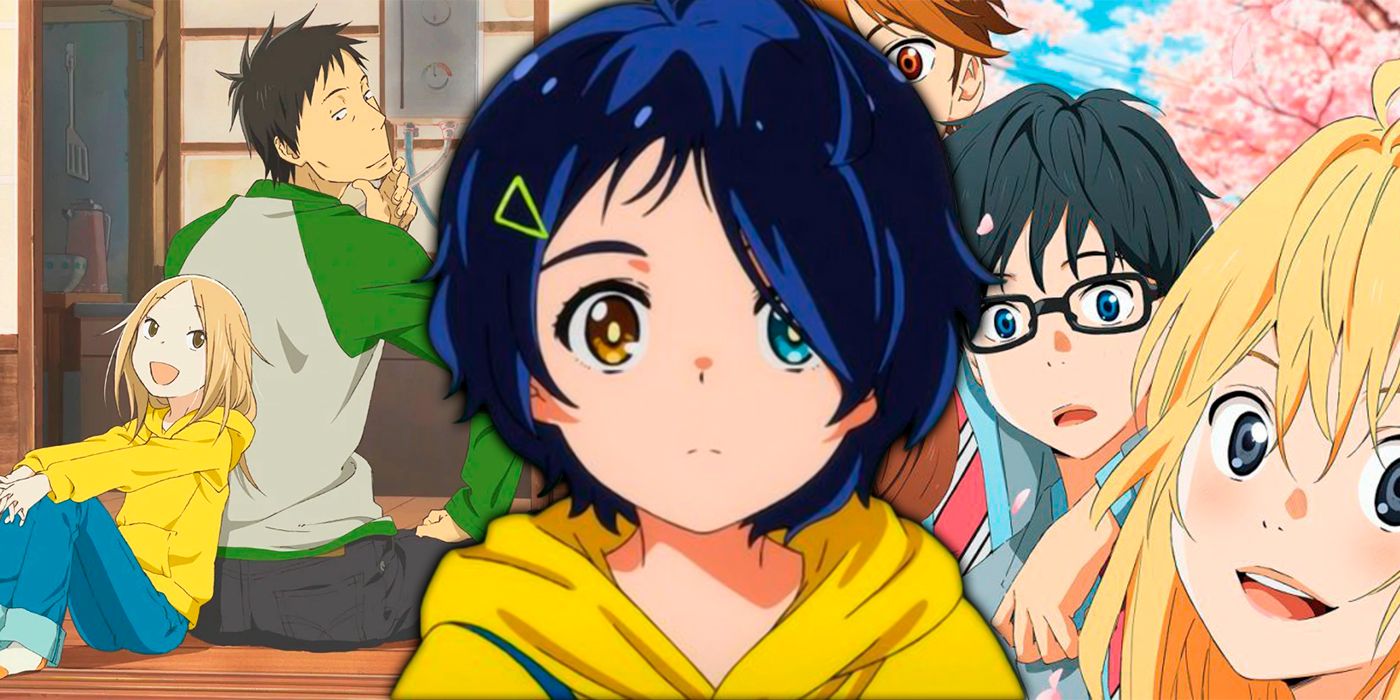 Best slice of life anime with dark undertones
The following article contains a discussion of suicide and self-harm.
Slice of Life as a genre is generally accepted as a fairly light-hearted presentation of everyday life without major conflicts. It is often grounded in a strong comedic premise, characterized by bright colors and cheerful characters. Series like Nichijou and Wotakoi: Love is hard for Otaku are excellent examples of a traditional version of this genre.
In recent years, anime studios have begun experimenting with incorporating darker themes into what had previously been established as a brilliant genre. This fits with the growing maturity of audiences as well as the growing diversity of anime. Combining slice of life with dark themes adds extra depth to a series, without making it so heavy that it might be difficult to watch. Here are some of the best examples of slice of life anime that have dark undertones.
RELATED: Flying Witch Shares a Fascinating Harry Potter Concept – And It's Not Magic
Wonder Egg Priority looks at humanity's inner demons
As one of the more recent adaptations, Wonder Egg Priority follows the story of Ai Ooto after the suicide of her best friend, Koito Nagase. Following instructions from a mysterious entity, Ai purchases a Wonder Egg, which allows her to battle people's traumas, regrets, and fears as fantasized enemies in a dream realm. With each person she successfully saves from their demons, she gets one step closer to saving her best friend.
Despite the deceptively bright colors and young protagonists, Wonder Egg Priority explores the depths of humanity's inner demons through their dream realms. A sexually abused girl confronts the monstrous teacher who abused her. A school gymnast stands up to a gym teacher who pressured her. It's even more poignant and bittersweet when it's revealed that all of the victims are already dead.
RELATED: The Most Overlooked Iyashikei Anime Series – And Where To Watch Them
The Girls' Final Tour Explores a Post-Apocalyptic World
The Girls' Last Tour takes place amidst the rubble of a once thriving war-torn city. In this post-apocalyptic setting, Chito and Yuuri seem to be the only survivors as they ride through the desolation on their motorbike, searching for food and contemplating life before the war.
This entire anime is light and cute, detailing their daily adventures and discoveries. However, by framing their story from a third-person perspective, it offers a unique insight into the reality of the situation beyond what the girls themselves might perceive.
RELATED: Aharen-san Redefines the Possibilities of Kuudere Anime Characters
Your lie in April cherishes the fragility of life
Originally billed as a typical slice of school of life anime, Your lie in April quickly plunges into the deep end. It is revealed that the prodigious pianist Kousei Arima can no longer hear the sound of the piano after the death of his mother. Amid themes of childhood trauma, Kousei finally finds some color in his life when he meets upbeat violinist Kaori Miyazono, who hides a secret beneath her cheerful facade.
Interspersed between peaceful scenes of everyday school life, flashbacks to childhood trauma, and the realities of dealing with a terminal illness. This duality in dynamics is beautifully executed. Despite the undercurrent of darker themes, the overall tone of this series remains upbeat, playing to the strengths of the slice-of-life genre.
RELATED: Komi Can't Communicate & Other Great High School Anime Streaming On Netflix
Orange tackles heavy mental health issues
In his heart, Orange tells a story of regret. One day, 16-year-old Naho Takamiya receives a strange letter from herself 10 years later, detailing the regrets her future self wanted to fix. Among these is one related to the new transfer student, Kakeru Naruse, who is no longer alive in the future. Having the ability to right past mistakes, Naho strives to save Kakeru before history repeats itself.
The themes of Orange are made much more meaningful because its setting is grounded in reality. The mental health leading to suicide is often very subtle and hard to notice, and this story accurately describes it. He does not dramatize the issue but invites the audience to search for signs and clues with the protagonists.
RELATED: 2022 Proves Anime Fans Can Still Hope Their Favorite Series Returns
Usagi Drop breaks the stigma of being a single parent
The anime can explore many dark themes, but the topic of being a single parent is rarely touched upon. Usagi's Fall follows 30-year-old bachelor Daikichi Kawachi as he attempts to raise Rin, his grandfather's illegitimate daughter with no experience in child-rearing. Daikichi and Rin have a very unique father-daughter relationship. Forced together by circumstances, both try to adapt to this new dynamic of life and relationship. It's endearing to see how they learn and grow together through the troubles and troubles of everyday life.
Slice of Life anime shouldn't just be simple everyday fun stories. When used in conjunction with darker themes, they provide a much more complex storytelling process that sets these series apart from others.
For more information on suicide warning signs and prevention, Click here. If you or someone you know is in emotional distress or contemplating suicide, call National Suicide Prevention Lifeline at 1-800-273-TALK (8255). If you live outside the United States, Click here for a list of international hotlines.
Azumanga Daioh Vs. Nichijou: What's The Best Slice Of Life Anime For Nothing?
Read more
About the Author