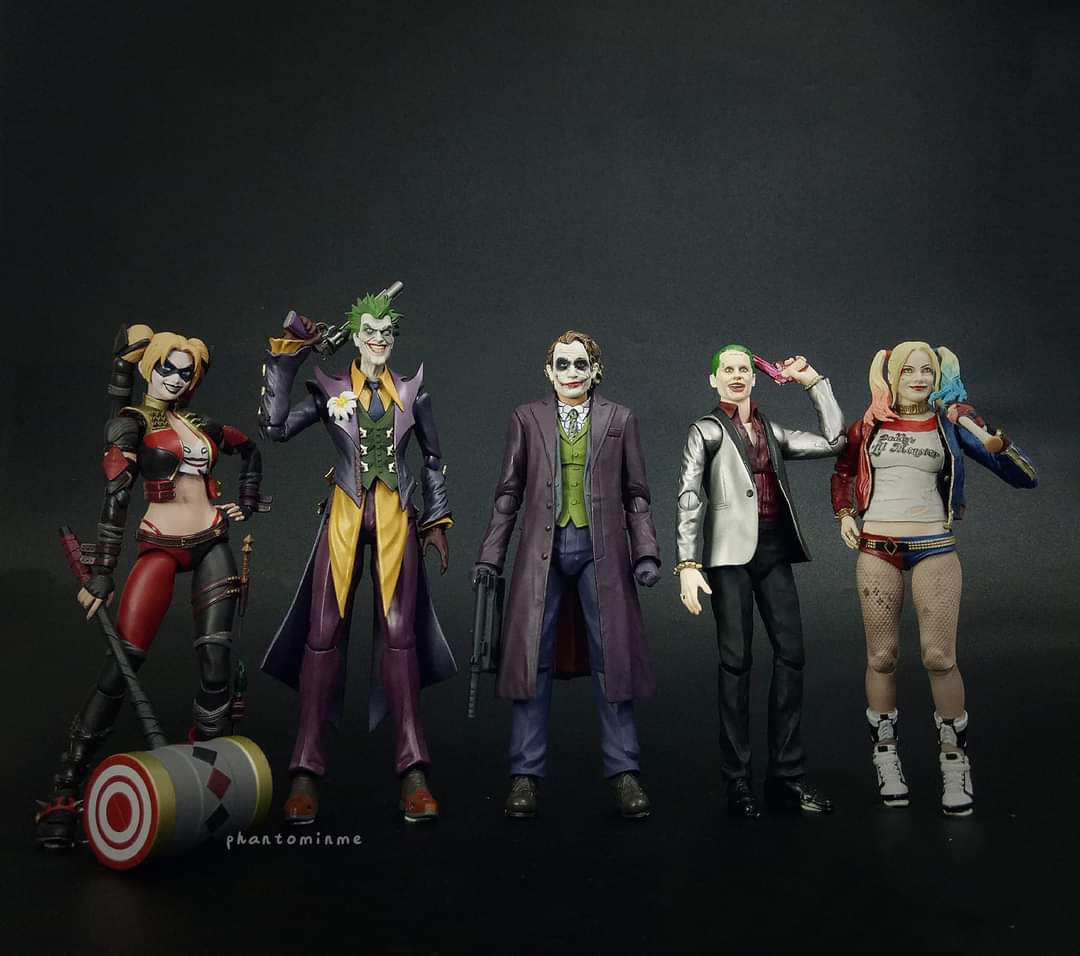 Collecting figurines: priceless beyond their value – Community
JP Staff (The Jakarta Post)
Jakarta ●
Tue 22 March 2022

2022-03-22
10:35
0
f8e9b23c24577c27f68e9d6e8c551a07
1
Community
figurine,figurine-collectors,collectors,collection,collectible,action-figure
Free

Action figures and collectible figures are not toys, say collectors, who consider them an art form and collect them as a lifelong passion.
Collecting action figures and other collectible toys may seem like a childish hobby to many people, if they even accept it as a "legitimate" hobby. For people into this hobby, figurine collecting is accessible to all ages and requires passion and commitment, just like any other hobby.
Marvin Leonard, a doctor from Sambas, West Kalimantan, has been collecting action figures since 2018 after a friend introduced him to the hobby.
"I visited [his house] when I saw his collection. I was like, 'Wow, this guy really has quite a collection. I asked him the price of his small figurines, to which he replied 700,000 Rp [US$48.92]", he recalls when he discovered the hobby.
At that time, Marvin wondered why anyone spent so much money on a toy. But he got interested and started collecting figurines after the meeting.
"Most of my collection are just action figures, not action figures. The difference is you can put an action figure in different poses," he said. In contrast, the figurines had only one pose.
"My first action figure was a Dragon Ball character, which I bought for around Rp300,000," Marvin said, referring to the popular Japanese manga and anime series.
While Marvin is relatively new to action figure collecting, Robby Umbara, who works in the trading industry, said he has been collecting action figures since he was little.
"I guess I never grew up. Boys will be boys," Robby said.
"One of the reasons I still collect figurines is [nostalgia]. It is also an act of "revenge". When I was little, I couldn't always buy what I wanted. I started collecting more intensely after reaching adulthood and finding a job. My collection has characters I identify with, the characters I grew up watching [on TV]," he said.
Bennyardo Gerson and Muliady Kodrata also started collecting out of nostalgia.
"My parents told me that I had been interested in action figures since I was little," Muliady said. His interest was first piqued by a Pinocchio figure another child had when the two shared a hospital room.
"For me they are very interesting, because they imitate the anatomy of humans, animals or even imaginary creatures. As they can be placed in [different] poses, I sometimes imagine they're real, especially if the characters are superheroes," Muliady said.
Priceless: SH Figuarts Indonesia member Bennyardo Gerson believes he could buy a car with the money he spent on his figurine collection, but would never sell it. (Courtesy of Bennyardo Gerson) (Courtesy of Bennyardo Gerson/Courtesy of Bennyardo Gerson)
Meet a community
While many collectors join a community after discovering the hobby, it was the opposite for Agustin Purnamasari. The native of Yogyakarta, owner of a bakery, started by joining the SH Figuarts Indonesia community.
"I started collecting after I arrived in 2015," she said. "Since then, I have also participated in rallies, exhibitions and film screenings. These activities have refreshed me, as I can relieve the stress of work."
As the name suggests, SH Figuarts Indonesia is dedicated to collectors of SH Figuarts action figures, produced by the Tamashii Nations divisions of Japanese toy company Bandai Co.. First released in 2008, the figures main appeal is that they are more affordable than action figures produced by other manufacturers and would be an upgrade from Bandai's previous line.
"The [S.H. Figuarts] is an evolution of the SHS line," said member Zephyr Martin, referring to the Souchaku Henshin series. "The previous line focused more on the figure's clothing, namely its armor. The SHF line is better articulated and more proportioned."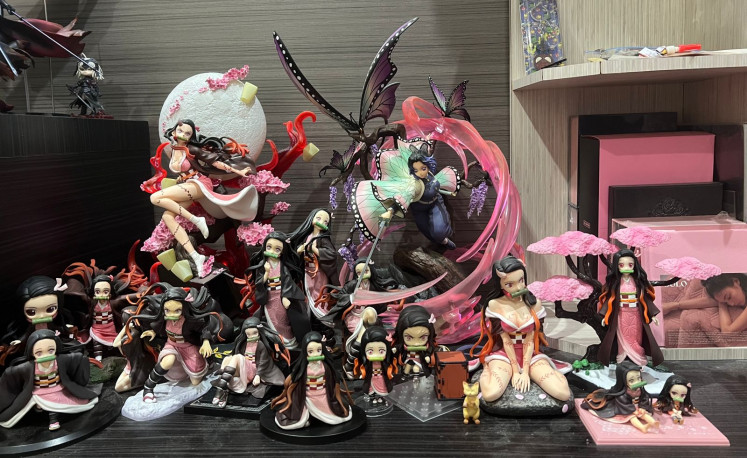 Favorite Items: Marvin Leonard's most prized action figures are those of Nezuko, a character from the "Demon Slayer" animated series. (Courtesy of Marvin Leonard) (Courtesy of Marvin Leonard/Courtesy of Marvin Leonard)
According to Wisnu Tri Laksono, another member, SH Figuarts Indonesia was founded in 2011.
"The group is not 'official', in the sense that it is the only one recognized by Bandai. There have been many similar groups, but we are definitely the biggest," said Indra Sugianto.
Indra acknowledged that the pandemic has disrupted the activities of the community, which has not held any major events for the past two years. Before the pandemic, the group would meet to discuss their collections, share information about upcoming models and organize exhibitions.
"There are still exhibitions in Surabaya, but [regional members] are no longer invited to present their collections. This has seriously affected the bonds between our members. I hope we can resume [activities] as usual this year," he added.
emotional value
Robby said he doesn't really consider the number or value of his action figure collection, but said his collection fills a bit more "of an entire room".
"Whether someone's collection is large or small is relative. We cannot determine the [figurine's] price tag value. It's the emotional attachment that counts," he said.
"I display them in the room that I use as my office. I feel more relaxed working from home alongside my [collection]", Robbie said.
Similarly, Muliady said he never really calculated the value of his collection.
"The value would be frightening if expressed in [money]", Muliady said. "I have over a thousand action figures, excluding the one I've owned since childhood. My expensive figurines are limited editions. For example, I pre-ordered Hulkbuster from Hot Toys for 12 million Rp. It costs more than 50 million rupees now."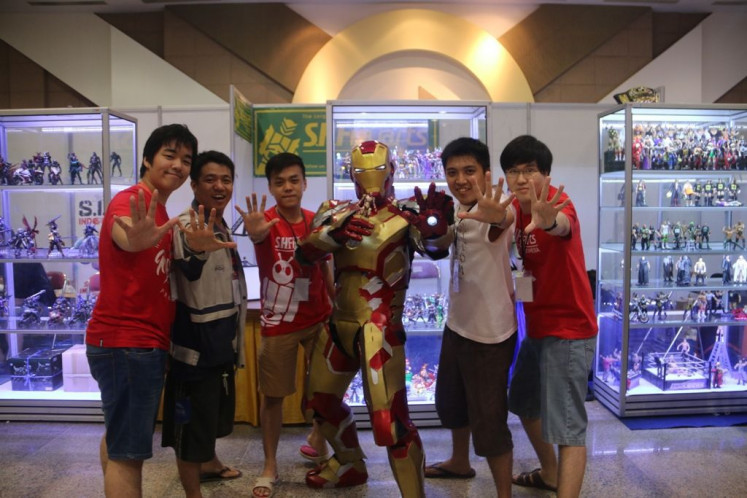 Bound by passion: Members of SH Figuarts Indonesia, an unofficial group of figurine collectors founded on January 10, 2011 by cinematographer Dodon Ramadhan, pose during a rally. (Courtesy of SHFiguarts Indonesia) (Courtesy of SHFiguarts Indonesia/Courtesy of SHFiguarts Indonesia)
So has Gerson, whose collection ranges from McDonald's Happy Meal toys to Kamen Rider action figures.
"None of my figurines were expensive when I bought them. They are expensive now, however, because of their rarity and historical value," said Gerson, who also never calculated the value of his collection. .
"I'm sure you could buy a car," he said, but added, "I will never sell them. May they be my inheritance for my children and grandchildren."
"childish" pastime
Both Marvin and Robby said their loved ones never disapproved of their hobby, or at least never voiced their disapproval.
"I don't think anyone [in my family] dare to protest. I mean, it's my money anyway, not theirs. If they had complained, I would have said, 'I do what I want with my money and my room,'" Marvin remarked.
"I think I'm one of the lucky ones," Robby said. "My wife understands my hobby pretty well. Even before we got married, she already understood that it was my hobby."
In contrast, however, Agustin, Gerson and Muliady had all received some form of criticism of their collections.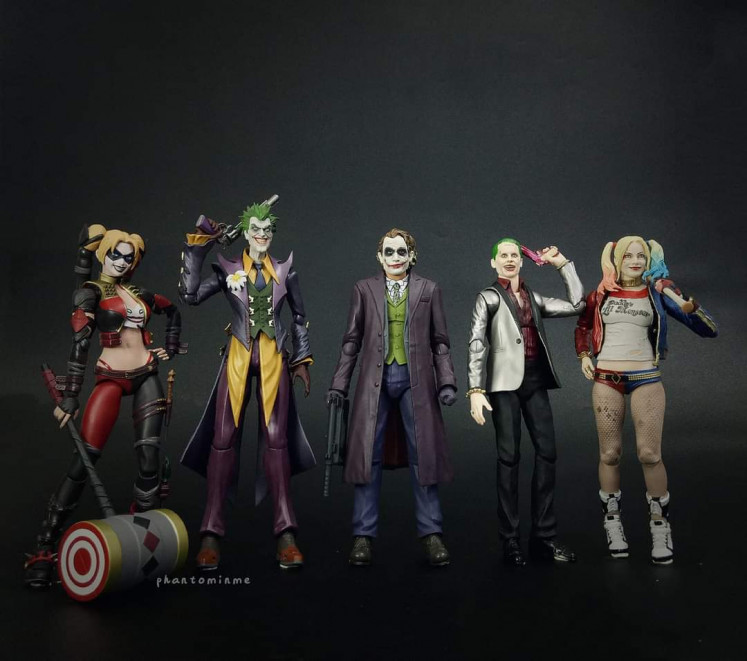 Not toys: Agustin Purnamasari is a baker who first joined SH Figuarts Indonesia, an informal community of figure collectors, then started collecting action figures and collectible figures, like this set from 'Suicide Squad ". (Courtesy of Agustin Purnamasari) (Courtesy of Agustin Purnamasari/Courtesy of Agustin Purnamasari)
"I explained to [the naysayers] that as long as I use my own money and it makes me happy, they should support me," Agustin said.
Meanwhile, Gerson said he was used to hearing people criticize his hobby as pointless. "I told them this hobby was like investing in gold. More [you have] and the longer you keep it, the more expensive [the figurines] to become."
For Muliady, his parents and peers both disapproved of his hobby, but he simply brushed off their remarks.
"Action figures are just another form of art. They are no different from sculptures, statues, paintings and installation art. […]", Muliady said. "I understand that not everyone likes art, but I do hope that this hobby will no longer be seen as something childish.
ohm