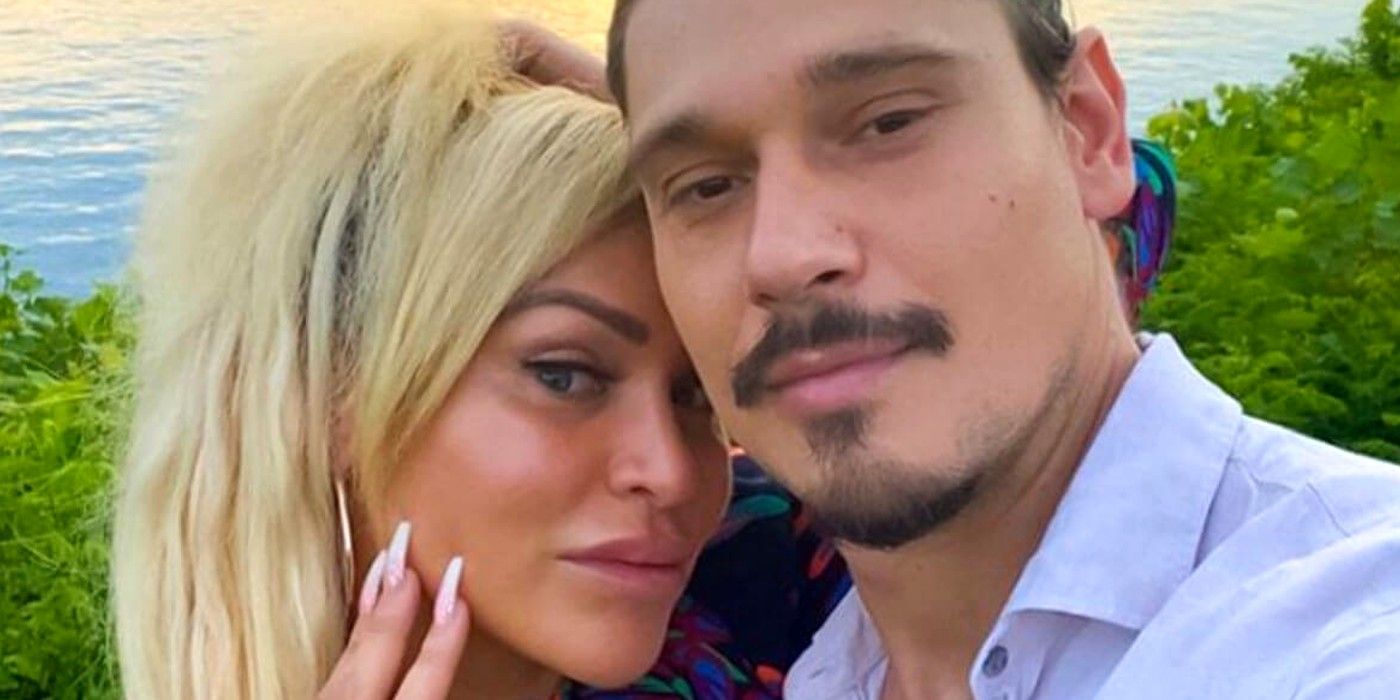 Highs and lows of Darcey Silva and Georgi Rusev's relationship
Darcey Silva of Darcey & Stacey fell head over heels in love with Georgi Rusev. However, her Bulgarian love interest had some secrets.
Darcey Silva of TLC's Darcey & Stacey got engaged to Georgi Rusev in the Season 1 finale, and we're here to talk about the couple's ups and downs. In season 2, they struggle to stay together. Darcey & Stacey Season 2 picks up 48 hours after Georgi proposed to Darcey on a yacht in Rhode Island. He had given her the engagement ring she had always wanted to get from Jesse Meester (and later, Tom Brooks). Darcey is shown in tears over trust issues, revealing that Georgi has already left her. This great fight between Darcey and Georgi is not the first time that the couple showed fans that they might not be right for each other.
Darcey is a 90 day fiancé icon who was once married to Frank Bollok. She had a very dramatic relationship with shady love interests Jesse and Tom on 90 day fiancé: before 90 days, which made her a household name. Darcey revealed she's courting a new young man via steamy video call sessions on Darcey & Stacey.
Related: Darcey & Stacey: Why Darcey & Georgi Rusev Aren't Good For Each Other
TLC viewers sensed that there was something special about Georgi. Originally from Bulgaria, Georgi spent eight years in the United States and worked as a lifeguard, model and massage therapist. Darcey and Georgi had started talking on Instagram DM. Two years later, they met face to face in Miami over Super Bowl weekend. Darcey & Stacey Season 1 then followed the couple's journey until they shockingly ask the question in the final episode.
Darcey Silva discovered secrets about Georgi Rusev
Darcey, who is afraid Georgi will cancel the engagement on Darcey & Stacey season 2, perhaps had valid reasons to doubt his fiancé's past since he had managed to hide a huge secret from him. At 33, Georgi has a major age gap with Darcey, 46. However, the couple's first on-camera date in New York City was straight out of a Hollywood movie. He offered her some expensive Bulgarian rose oil and then demonstrated his massage skills. However, Georgi was still married to his ex-wife. He met his ex on a modeling assignment and proposed a few months after their whirlwind romance began. Many fights later, the couple discovered that they weren't compatible enough and decided to go their separate ways. Georgi's divorce was still pending due to the COVID-19 pandemic.
Darcey Silva and Georgi Rusev got serious quickly
Meanwhile, Georgi remembered telling Darcey about it as they sipped champagne after their meeting in Miami at a nightclub. At Darcey & Stacey, plastic surgery fan Darcey claimed she had no idea. The couple had moved in together quickly after just a few dates, due to the COVID-19 pandemic. Georgi left his home in Washington DC and traveled to Connecticut to be with Darcey. Stacey appeared to warn Darcey, but Darcey jumped into the relationship anyway. However, she continued to doubt Georgi, wondering what else he was hiding about his past. Additionally, the proposal, which took place in June 2020, happened right after the fight, causing Darcey's family, friends and fans to doubt his intentions.
Darcey Silva was shocked by Georgi Rusev's proposal
During a recent episode of 90 days all naked, Darcey revealed that she didn't expect Georgi to apply so soon. Preview Darcey & Stacey Season 2 with Darcey and Friends showed how shocked and confused they were about this sudden update to their relationship. Meanwhile, Stacey also wondered if Georgi was in the relationship because of the love for Darcey and her big heart, rather than for her "big wallet.Fans saw Darcey go through grief twice, and a third breakup would hurt him.
While 90 day fiancé Fans of the franchise think Darcey looks for love in the wrong places, she finds fault with Georgi, who might in fact be "the one"She is still wanted. This can have an impact on how her relationship plays out. Darcey & Stacey Season 2 will take a long and hard look at Georgi's past, and it will be up to Darcey to make the final decision. Instagram updates suggest Darcey and Georgi are still doing well. This time around, the reality TV star may have found her happily ever after.
Next: Darcey & Stacey: What Fans Can Expect To See In Season 2
90 Day Fiancé: Larissa's Gains Fuel Her 'Biggest Dream'
About the Author