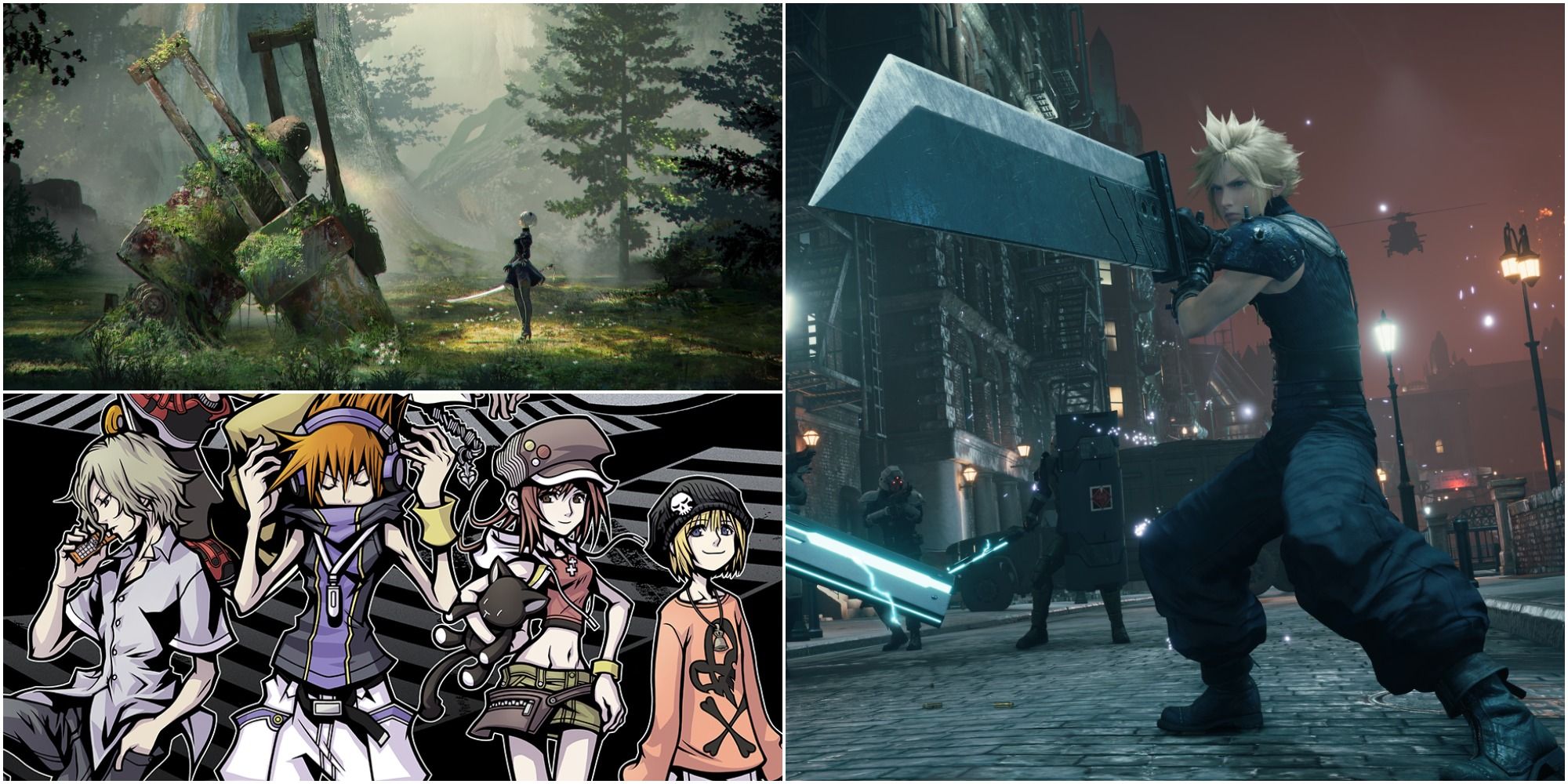 JRPGs are home to some of the most unique and stylistic series of all time, ranging from 1993's Breath of Fire to modern hits like Tales of Arise. This genre is brimming with style, which is present not only in the character design, but also in the gameplay and HUD elements, making for a cohesive badass experience when it all comes together.
RELATED: Best JRPG Battle Themes Ever
There are many JRPGs, all with their own unique look and feel, allowing players to experience new creative worlds for the first time and fall in love with them. Style is only a fraction of what makes JRPGs so great, but it's still an important aspect.
legend of mana
Legend of Mana's beautiful art direction, coupled with its fantasy world and enemy design, is truly a sight to behold. The charming and mystical nature of the story is expertly portrayed with every character, region, and encounter, making it an obvious entry here.
Legend of Mana's storybook presentation holds up beautifully to this day and features incredible scenes, monster design and more. Luckily, if you haven't experienced this mind-blowing story yet, the remaster released last year is a great way to do so.
the world ends with you
Flashy combat, a stunning soundtrack, and superb art direction make The World Ends with You one of the best JRPGs of its time. Exploring Tokyo's Shibuya shopping district with an urban anime/fantasy aesthetic is enjoyable every step of the way, bringing out every character, location, and encounter.
RELATED: The Best Short JRPGs You Need To Play
The World Ends with You combat system engages almost every time you dive into an encounter. Your abilities come from the pins you collect across Shibuya's various neighborhoods and are generally flashy and fun to use, especially when paired with the perfectly blended OST filled with rock, hip hop, electro.
Dragon Quest 11: Echoes of an Elusive Age
While there are plenty of gorgeous Dragon Quest games out there, Echoes of an Elusive Age showcases Akira Toriyama's fantasy art style in stunning 4K resolution for the first time. The monsters, villages, characters, and just about everything else are cheerful and charming.
Exploring the beautiful regions while listening to the series' iconic score is surreal and a worthwhile experience. Whether this is your first Dragon Quest game or you're a veteran of the series, the fully realized world of Echoes of an Elusive Age is awe-inspiring on every visit.
Shin Megami Tensei 3: Nocturne
Shin Megami Tensei 3: Nocturne takes place in modern Tokyo, but in a Vortex world due to a post-apocalyptic event triggered by a sinister cult trying to rebuild the world through a process called "Conception". This universe is dark and intimidating but possesses that style so expertly.
Fighting messed up demons as a high school Demi-fiend in a destroyed Tokyo is absurd in the best possible way. If you haven't bitten into one of Atlus' best yet, the Nocturne HD Remaster is an amazing way to fix that.
Scarlet Nexus
One of the best offerings from last year was Bandai Namco's new action JRPG in Scarlet Nexus. Its cerebral, futuristic Japan punk setting is unique and refreshing, which goes hand-in-hand with the absurdly fun and flashy combat system.
You'll juggle your party's psychokinetic abilities and unique traits to eliminate mutations and solve the overall mystery of the plot. The visuals, enemy design, and overall punk brain aesthetic are more than enough to dive into.
Yakuza: like a dragon
Like a Dragon is the first Yakuza title to break out of the Beat 'em Up genre, launching full steam ahead into the turn-based combat that inspired the series in the first place. This genre shift was a concern for many fans, but it fit Yakuza like a glove, instantly becoming a fan favorite. And for good reason.
RELATED: The Best Standalone JRPGs
Much like its predecessors, Like a Dragon features a wacky take on Tokyo, containing a beautiful recreation of the city while having an overabundance of charm, crazy combat encounters, and lovable characters. Ichiban is a weirdo, but one who proudly wears the quirky style of Yakuza games on his sleeve, which is why we love him so dearly.
To deny: automata
Set thousands of years after the fourth ending of its prequel, Nier: Automata comes with plenty of quality-of-life changes and an equally heartbreaking story. However, despite its rather disastrous setting, Automata's style is truly remarkable. And that sweet PlatinumGames combat only makes things that much better. If that wasn't enough, the game's soundtrack is also lauded for being the best of the best, which we fully support.
Apart from its prequel, which is also excellent, there is nothing like it. Fast, snappy, and stylish combat opens the door to experimentation, letting you mix and match different playstyles while increasing your tokens to play to your strengths. The game also dips its toes into a handful of different genres, ranging from hack and slash to shoot 'em ups.
Paper Mario: The Millennium Gate
Paper Mario: The Thousand-Year Door might be one of the best JRPG experiences of all time, almost making us go so far as to say it might be the best Mario game, but we don't want to go so far still. However, the endearing world of La Porte Mille Ans brims with style and wonder.
Whether it's the original cast of characters, the wonderful animations and transitions, or the stunning paper world, Paper Mario: The Thousand Year Door brings nothing but joy to every step of your journey.
Monster Hunter: World
Everything Monster Hunter: World tried to knock out of the park, creating a completely unique and exhilarating experience from start to finish and beyond. Removing "zones" from previous games allowed them to beef up and capitalize on something special.
Much like any Monster Hunter title, you're tasked with hunting down and killing or capturing a wide variety of monsters, which is only enhanced by the scope of World's level design. You can then use some of their materials to craft incredibly cool and badass armor sets and weapons. Moreover, you can ask a cat chef to prepare food for you, decorate your room and much more.
transmitted by blood
While some might argue that Bloodborne isn't a traditional JRPG, we decided to include it purely based on its style, which might be one of the best in the game. Yharnam's Victorian Gothic setting is equally breathtaking and terrifying, making it an unforgettable experience.
RELATED: The Best Non-Human Allies In JRPGs
FromSoftware has always had stunning art design, but Bloodborne offers something truly special and remains one of the most beloved games of the last generation. The grotesque monsters, jaw-dropping areas, engaging gameplay, and captivating atmosphere make this a must-play game.
Final Fantasy 7: Remake
While limiting you only to the dystopian cyberpunk metropolis that is Midgar, Final Fantasy 7: Remake does a masterful job of fully realizing every nook and cranny of the original, making it feel real, lived-in, and making you fall in love with it and the characters again.
With every gorgeous character and the environments mimicking this approach, it's hard not to get sucked into the style of the game. The boss fights, lively cutscenes, and overall attitude of the game are genuinely enjoyable from start to finish.
Persona 5 Royal
After the Phantom Thieves, a group of high school vigilantes who hold adults accountable for their disgusting actions, Persona 5 Royal is perhaps the very definition of style. Persona 5 Royal is set in modern Tokyo but lets you explore the Metaverse, a supernatural world born from the subconscious of humanity.
Whether you're in the Metaverse or living with your friends in Tokyo, Persona 5 Royal never relinquishes its grip or style. Smooth transitions to post-battle stats, each character's Persona appearance, and music are perfectly placed and handled with genuine love and care.
NEXT: Great JRPGs Without Turn-Based Combat
It Happened: Nintendo Copyright Strikes This Pokemon First-Person Shooter
Well, I think we all saw that coming.
Read more
About the Author