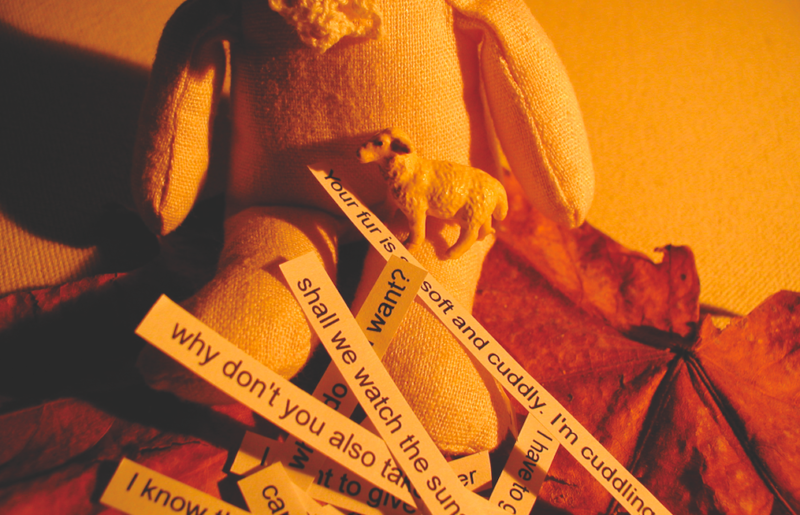 INTERVIEW: Sachiyo Takahashi's "Sheep # 1" will play Japan Society
[ad_1]
Photo: Sheep # 1, created and performed by Sachiyo Takahashi, will play Japan Society. Photo courtesy of Nekaa Lab / Provided by the press representative with permission.
---
Japan Society in New York will soon host the new show Sheep # 1, created by and starring Sachiyo Takahashi. The work consists of storytelling, object theater and live music, with both an intimate performance and screenings. The unique evening is in fact inspired by the writings of Antoine de Saint-Exupéry, author of The little Prince, and follows a sheep that searches for the meaning of life, according to press notes.
In the work, Takahashi uses a technique known as "Live Microscopic Cinema-Theater," which finds the artist manipulating tiny figurines that are magnified on a large screen with a video camera. Performances will take place at the Japan Society from November 4-7, with two unique programs presented over four nights – one with Takahashi accompanied by a pianist and the other with a bassist.
Recently Hollywood Soapbox exchanged e-mails with Takahashi about Sheep # 1. According to her biography, she explores the border between narrative and abstraction to generate fables for the subconscious, all done in a minimalist way. His work has been seen at Prague Quadrennial, St. Ann's Warehouse, La MaMa, The Tank and HERE. Questions and answers have been edited slightly for style.
How would you describe live microscopic cinema theater to someone new to this art form?
I use simple technologies such as consumer video cameras and a projector in this art form. These serve as a magnifying glass. I handle small objects on the table in front of the audience. The audience sees my manipulation live and the resulting visuals at the same time. I use manual visual effects – for example, close-ups, focus, optical filters and handmade lenses to create an enhanced dreamlike experience through the combination of cinematic presentation and operation live. Sound is also an essential component of this art form. During the creation, I compose visual and sound elements simultaneously to achieve synergies between them. I would say that live microscopic cinema-theater is like visible music or poetry in motion.
When did you discover the writings of Antoine de Saint-Exupéry?
When I was doing an internship in a contemporary theater company in Belgium in my twenties, I found myself in a show where everyone had to play a famous historical or imaginary icon that we look like. I couldn't find such a figure that looked like me. Then somehow I ran into The little Prince. I was pretty extraterrestrial in my new life in Europe at that time. It all seemed strange, and I asked weird questions all the time like the prince did. So I became a Little Prince on stage and I read Saint-Exupéry's writings from the inside. I immediately connected with the way he looked at the world. The way he looks at the world from above: the point of view of a pilot, a bird, an astronaut, an alien. It was as if he was giving the words to the feeling I always had, but never could describe. Finally, I realized that I had always observed humanity from above as Antoine had done since my childhood.
Did you immediately consider a theatrical work considering what Saint-Exupéry said, or did you take a long time to see how the adaptation could work on stage?
Sheep # 1 is not the adaptation of the work of Saint-Exup̩ry. It started from a sheep РI had a very small sheep figurine (who is now a member of Nekaa Lab and the frontman of this show) that I found in Belgium. The sheep followed me as I moved from Europe to North America. One day, I thought to tell the story of a trip of this sheep. As my sheep is small, I would make it bigger. Thereby, Sheep # 1, the first repertoires of my Live Microscopic Cinema-Theater, were born. Of course, the sheep is an indispensable element in The little Prince, and the inspiration of Saint-Exup̩ry has always been present.
I ended up using Saint-Exupéry's texts in this piece just because I felt it was appropriate. Although this work is not a direct interpretation of any of his works, it reflects his philosophies in life.
What's the hardest part about performing a play like this?
I prepare the visual and sound elements beforehand, quite meticulously. But for the day of the performance, I have to be ready to let go. Since I have been working with live musicians (Program A with pianist Emile Blondel and Program B with bassist Kato Hideki), each performance has a different energy. The audience is also part of the play. Some of the items I use on stage behave differently each time. I feel like I'm always on the fine line between controllable and uncontrollable. I know, however, that the best way is to listen to the moment and respond to the unpredictable and coincidences. It is a scary feeling to be completely open in the present moment. But if I want to repeat the same "perfect" thing, I'd better shoot the show for animation. I believe in liveliness, so I'm willing to take a risk.
Would you describe SHEEP # 1 as minimalist by nature? Does minimalism make the room more accessible?
I consider Sheep # 1 is an exploration of minimalist or abstract storytelling. The accessories are simple. There are no words spoken. The texts appear as "subtitles" written on small pieces of paper, but they are sparse. The story, if there is any, is quite simple but sultry.
Sheep # 1 does not tell you a complete, complex story. Instead, he creates space for the audience to follow his. It serves as a mirror, a safe space to stop and feel, as the performance slows down the sense of time through the language of magnification.
I don't know if the minimalist nature of the piece makes this work more accessible. Rather, I would say that the simplicity of this work allows the public to visit the place where otherwise it is not accessible. Maybe I'm influenced by traditional Japanese art forms. When I see the space, I don't want to fill it all. I like to leave the void for the resonance.
When did you first fall in love with stories and storytelling?
I have always loved listening to the folk stories that my grandmother told me from time to time. She repeated the same stories with slight variations each time. It was amazing that I enjoyed listening to the same story a million times even though I already knew the plot. It was the first encounter with the power of storytelling. My real fascination with storytelling, however, came much later when I discovered traditional forms of Japanese storytelling. The interdisciplinary nature of No theater and Bunraku puppet theater, for example, is quite inspiring from a contemporary point of view. I am also very much in love with the tradition of Japanese storytelling only through voice, like Shinnai-bushi which I also run. Maybe I believe the words a fox said in The little Prince: what is essential is invisible to the eyes. Maybe that's why I always tend to listen and try to catch something unseen and indescribable through my work of art.
By John Soltes / Editor / [email protected]
Sheep # 1, created and performed by Sachiyo Takahashi, will play Japan Society from November 4 to 7. Click here for more information and tickets.
[ad_2]