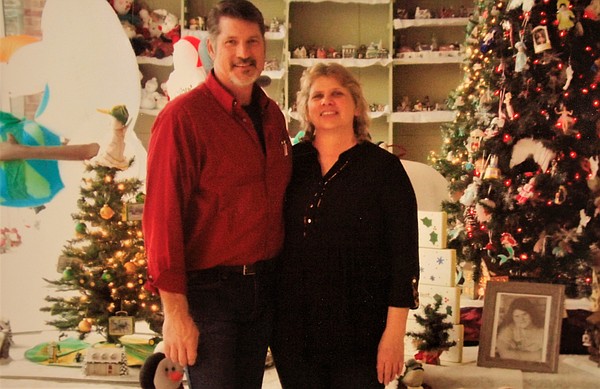 Kay and Paul Smith's exhibit returns to Smackover
Christmasville, a longtime project of Kay and Paul Smith, is set to return on Thanksgiving Day to a new location – 201 E. 7th St. in Smackover, the site of the Old Town Hall.
A carefully arranged maze of themed Christmas trees and elaborate villages with festive figurines and even motorized trains, Christmasville is back in its sixth year in Union County after a 2020 hiatus due to COVID-19 .
Looking at the displays, you would think the Smiths are somewhat obsessed with Christmas.
Speak with Kay Smith for a while, however, and it becomes apparent that the two of them are the most enamored of the details and craftsmanship of the exhibit set-up and the fun others experience when they visit " Christmasville ".
The project starts each year with a jumble of red and blurs of green and gold; boxes filled with carefully wrapped ornaments; and, generally, a building that needs a bit of work before a single tree is erected.
The Smiths sought permission from Smackover City Council to use the old Town Hall building during the summer; they started working on the installation of the exhibition in september.
The couple usually try to find buildings they can use for the exhibit for free, offering to do upkeep and maintenance while they use the facility. In previous years, the Christmasville exhibit was held at the Smith House, a former pool hall in Smackover, a small business in Strong, and the Professional Cosmetology Education Center in El Dorado.
The process of putting together the exhibit each year is incredibly laborious, starting with transporting the Christmas decorations and construction supplies from storage to where they are exhibited that year. Both Smiths work full time, so they spend evenings and weekends doing the various chores needed to make Christmasville a reality.
Kay Smith takes care of most of the organization, outreach and adornments and offers many themes for the various Christmas villages featured in the exhibit, while Paul creates landscapes and backdrops for the villages. to live in, assemble tables and build villages from their collection.
Kay Smith expanded the original exhibit to include suggestions shared by visitors; for example, she created a "military tree" to display ornaments containing photos of local veterans. She also added an "old-fashioned tree", with hand-knitted ornaments.
For each idea, a new task is added to the Smiths' to-do list when setting up Christmasville, such as cutting out pictures of veterans or "hometown heroes" and placing them in ornaments for your Christmasville. their respective trees.
Paul makes many of his designs out of Styrofoam, such as stairs, brick walls and imitation fountains for village exhibits. It also takes care of the wiring of all the villages to include any lights, sounds or movements that buildings and miniature figures are capable of.
Due to the size of the Smackover building, all of the villages in the Smiths' collection – which range from themes like "carnival" and "seaside" to towns based on major films, like "It's a Wonderful Life "- to be posted this year. However, Kay said they will include interactive displays for children, as well as other popular features of the exhibit.
Most of the villages and ornaments come from the Smiths' own collection, which Kay builds through thrift stores, auctions, and online shopping.
"I have been collecting Christmas houses for over 40 years. I loved them as a child and started collecting after getting married and having children. We had it in our house and friends would come by. see it for New Years Eve. We had grown too big for the house and wanted to share it with people, and the only way to share it was to talk to people and find a building to use, "said Kay Smith .
Smith can flip through his album from years past or browse current postings and talk about the person (s) who donated, spoke or interacted with each post.
Each annual exhibit is in honor of Kay's late daughter, Tammy, who died in a car crash. A special tree is placed in her memory each year, with ornaments that Kay gave her as a child.
"All of our donations go to my church, Bible college, because she was in Bible college when she was killed. If there aren't any students, we'll send her to missions, and he's gone. buy new [church] vans a year, "Smith said.
Christmasville is free for all visitors. Kay Smith points out that the couple are taking, but not asking for, donations.
She can recall several moments that made this policy worthwhile.
"If people want to donate, so much the better; otherwise, that's fine. We keep it for free. I was a single mother of five; I couldn't afford to take my kids to the fair or something that was pretty expensive Our first year in El Dorado, an old man came knocking on the window and asked how much, and I said "c 'is free". He went to get his wife and she lit up like a kid on Christmas Day when she saw him. [remembering] Christmas Day when she was a kid, and it's just the joy of doing that, "Smith said.
Visitors can choose to self-guide their journey through Christmasville, or, if they wish, take a Smith-led tour who explains the stories behind the displays.
While the exhibits are impressive without context – evidenced by images of exhibits from years gone by alone – having Smith on hand to explain the meaning stored in the ornaments; tell about the process of creating landscapes from polystyrene; or simply telling the stories behind the images and the villages, gives an idea of ​​the scale, the history and the degree of care given to the project.
The exhibit is scheduled to open on Thanksgiving Day from 3 p.m. to 7 p.m. and will be operational until Christmas Eve on Fridays and Saturdays from 1 to 9 p.m.
On Christmas Eve, the exhibition will be open from 2 p.m. to 5 p.m.
Themed Christmas trees, including the Galaxy Tree, which shows famous sci-fi characters from properties such as "Star Trek", "Star Wars" and "Doctor Who", are a prominent feature of Christmasville. (Photo from News-Times file)
Village exhibits fill Christmasville and feature thematic portraits of holiday life, including the extensive and detailed Carnival exhibit. (Photo from News-Times file)
The seaside village of Christmasville features docks made by Paul Smith and fabric that works like water. (Photo from News-Times file)
The Christmasville exhibition includes themed villages made with holiday miniatures, Christmas trees filled with ornaments following different themes and, of course, nativity scenes. (News-Times file)
Paul Smith cables Christmasville to include any lights, sounds, or movements that buildings and miniature figures are capable of. (News-Times file)
Paul Smith cables Christmasville to include any lights, sounds, or movements that buildings and miniature figures are capable of. (News-Times file)
Christmasville includes themed villages made from miniature vacation homes and figurines. Paul Smith reinforces the realism of the villages by constructing landscapes unique to each setting. (News-Times file)
No Christmas exhibition would be complete without nativity scenes. (News-Times file)