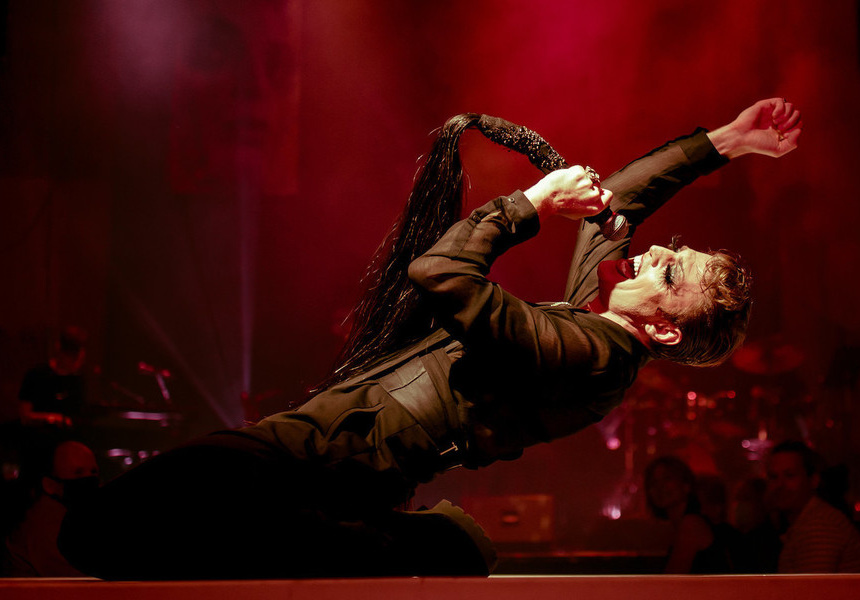 Our top Adelaide Fringe picks
The Adelaide Fringe is one of the few major festivals that has been able to continue uninterrupted throughout the pandemic. Australia's biggest arts festival has its own gravity, and in 2022 it will take over Adelaide with over 1,000 shows across hundreds of venues.
But it's not just the sheer number of shows that makes the Fringe stand out; this is the variety offered. Comedy, dance, theatre, cabaret, circus, music and magic collide every evening (and almost every day) from February 18 to March 20; even if you're not inside a Fringe venue, you'll most likely rub shoulders with sparkling performers in Adelaide's bustling bars and restaurants.
One of the great joys of Fringe season is bouncing between shows, meeting artists as they stroll down the street, and sharing recommendations with strangers over drinks. But if you only have a limited amount of time, here are some shows that should definitely be on your list.
song of the sky
Past and future collide in this month-long, multi-sensory spectacle of The Fringe. Beneath the night sky, hundreds of drones dance in formation to create moving constellations along a massive 60-meter screen. They're accompanied by a soundtrack from iconic Indigenous artists, including Archie Roach, Kev Carmody and Electric Fields, in this world premiere that allows local storytellers Major "Moogy" Sumner and Jack Buckskin to share their traditional stories and visions of the future.
Leconfield and Richard Hamilton wines
March 11 to 20
Reuben Kaye – The Butch is Back
Distinguishing between smart and rude, then brushing it aside and happily moving on with a poop-eating grin, Adelaide Fringe Ambassador Reuben Kaye is a dealer in glitz and doom delivering the perfect soundtrack as the world is burning. A towering figure, impeccably dressed with a serious stage presence, Kaye is explicitly political in the tradition of the best cabaret, excoriating the government with caustic one-liners one moment, then leading the crack house band with a soaring voice the next.
The Garden of Supernatural Delights
February 18 to 20, February 23 to 27, March 2 to 6, March 9 to 13, 16 to 20
To buckle the buckle
Whether it's turning farts into songs at a children's show or performing a 24-hour marathon concert, Adam Page has long established himself as one of the most creative and talented musicians around. from Adelaide. But in this performance, he meets his match in the form of fellow multi-instrumentalist Gene Peterson. Like a heavyweight freestyle battle with buckle pedals replacing boxing gloves, these two will go hand in hand in the ring, taking sounds of everyday instruments and objects and layering them intricately until what one gives a knockout blow.
Gluttony
March 9 to 12, March 16 to 20
Aaron Chen: If weren't filmed, no one would believe it
Comedy has long been a staple of the Adelaide Fringe, with everyone from celebrity comedians to avant-garde performance artists popping up on stage. A master at turning horrific clumsiness into comedy, Aaron Chen combines the best of both categories. No one can guess what his last show will be, but past experience says to expect plenty of unpredictable non-sequences, awkward breaks and uncontrolled laughter.
The Garden of Supernatural Delights
February 18 to 20, February 22 to 25
A Night With Uncle Jack
Legendary actor, activist and storyteller Jack Charles lived a full life. A pioneer of Indigenous theater in the 1970s, he has enjoyed a career renaissance over the past decade on television and on stage. (His work as a mentor for young people at risk also resulted in his recognition as Senior Victorian Australian of the Year in 2015.) His journey is full of surprising twists which are chronicled with warmth and candor in the biography of 2019. Jack Charles: A Born Again Blakfella and this unique performance is a rare opportunity to spend two hours with one of Australia's most charismatic characters.
Gluttony
March 15
Cabaret people
The Fringe usually orbits the twin hubs overlooking East Terrace, but head west and you'll find Cabaret people, a collective formed to challenge the status quo by showcasing artists who identify as Indigenous and/or Bla(c)k and/or people of color. Hosted by the always-fabulous Victoria Falconer (a Fringe legend who's also behind the Smashed brunch party), this all-star gala features the best cabaret, drag, burlesque and circus performers from across the festival for a spectacular celebration of inclusivity.
Nexus Arts Venue at Nexus Arts in West Village
March 9 and 18
Eleanor Stankiewicz as Nanna Stasia
A homecoming for Adelaide-born Eleanor Stankiewicz, this moving show is inspired by the 90s animated film Anastasia, which offered an alternate history of the youngest daughter of the Romanovs. As a child, Stankiewicz imagined he was also telling his grandmother's story, and growing up discovered unexpected synchronicities. The two stories are fused together in this Disney-style musical, which blends personal memories, family history and fantasy to tell the true story of a Lithuanian refugee in search of her family.
Drama Llama at Rhino Room
March 8-13 and 15-19
This article is produced by Broadsheet in partnership with Adelaide Fringe Festival.