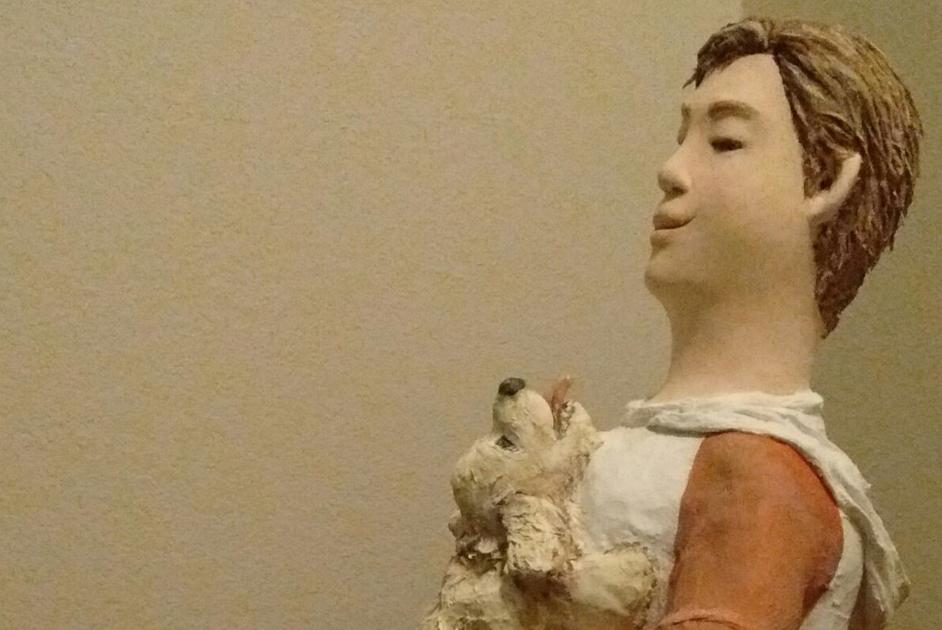 The Boy and his Dog: Learning to Create in Art Class | Way of life
It started about eight years ago in the open studio of Treasure Trove, where I stuck a half-gallon milk jug with a plastic water bottle and newspaper, and proceeded to proceed. the messy work of traditional papier-mâché.
Unfortunately, I had to stop going to open a studio, and for a while, "the room" languished on a shelf at the back of Treasure Trove. I finally saved it and brought it home to languish on a shelf in my small office / studio.
One day I took pity on his crumbling plaster face and smeared it with glue to hold it together. I decided to try using air dried clay as the skin on my face and hands. A face emerged. It was my brother's face, and my brother loves puppies. Suddenly the room took on meaning. I had struggled with character and composition, and worked around the awkward protrusions of the milk jug. Now I could see a way forward. I could see the room. Sometimes it takes a while for the world to focus.
When a persistent roof leak caused the ceiling in my small office / studio to collapse, I sat it on the kitchen table. I started to call "the room" like "the boy". He made me crack a smile every time I walked into the kitchen.
Unfortunately, I gave him a smile in return. I accidentally knocked him off the table on the floor, where he lay beheaded and otherwise fractured. I picked up the patient and applied the best head reattachment first aid I could find – a paper tourniquet and white glue. When it dried, I was surprised at how strong the bond was. I started using it all over "the boy" for repairs and modeling. It turned out to be a really versatile support, especially with the dog. I could roll it up, twist it, cut it and use it as a pickle. I started making little creatures using egg cartons for the frame.
I thought I had discovered something magical! Indeed I had … or at least until I tried to put a new clay skin on something known for its absorbency. The moisture from the clay swelled the paper of my quilt and left raised bumps under her skin. My boy had a bad case of acne. So I tore off his face and did it again, using more clay.
I decided to use a primer sealer on all areas of the paper. It seemed to work well. The sealant made the paper towel water resistant and rock hard. The bonus was that I could still cut it, shape it and sand it. Plus, I could build more on top without fear of collapsing. Cool! To unify the piece, I tried using a sealer on the clay face. I kind of forgot there was moisture in the sealer. I had to rip her face off and do it again! This time there was an extra layer of sealer to contend with when finishing.
Life is ending, isn't it? We are brash in our efforts to create things, but we need persistence and patience, especially with ourselves, to complete what we are starting. Sometimes it takes many steps and extra layers to get there. Sometimes it takes years. Sometimes we just throw paint away, hoping no one notices.
Not long ago I moved to Bear Valley to annoy my full time mom. During the move, "the boy" grazed his elbows and suffered a few minor abrasions. Then, when he was properly seated, my oak cane fell on him and made not only his smile crack, but his little dog's smile as well. Repairs, alterations, finishes … finishes … finishes.
So now I'm ready to apply a final sealer and I'm petrified! But that's what we do as artists when we try something new and unknown. We face our fears and dare to create, using what we have learned.
After eight years, the boy, his dog and I are ready to share what we have learned together. But how do you share all of this in one class? You can not. So, I divide a starter workshop into a series of three classes. Mel at Treasure Trove gave me the following dates:
• Saturday September 11: Intro to Armature (egg box) 11 am-1pm
• Saturday September 18: Introduction to the cover (features and textures) 11 am –
• Saturday September 25: Introduction to finishing (cutting, sanding, painting) 11 am-1pm
Let's have fun! The cost is $ 45 for the three-class series, payable to Treasure Trove.
Call now (661-822-6794) to reserve your spot. There is a limit of 10 people for the lessons, so don't delay!