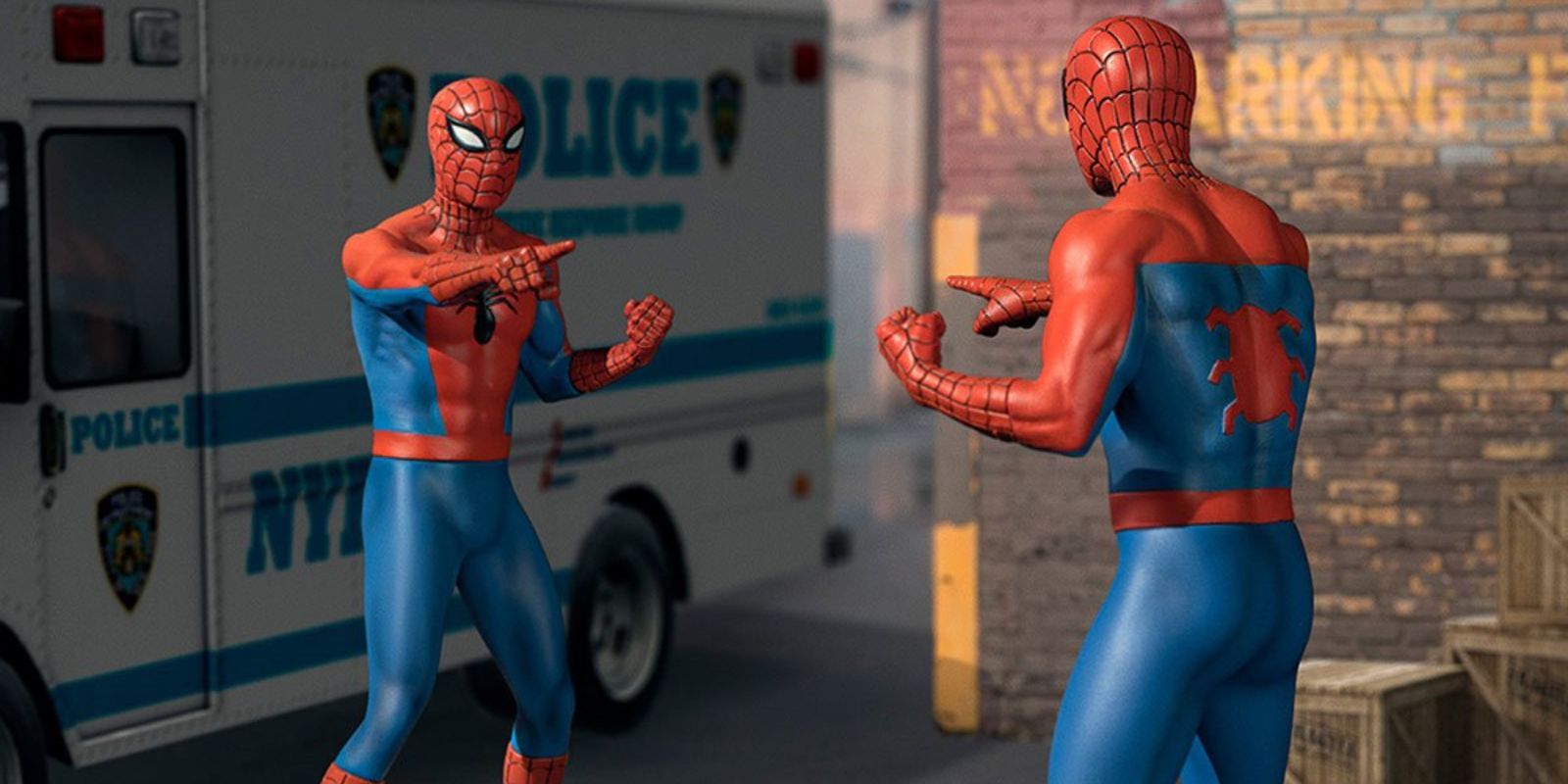 The Iconic Spider-Man Pointing Meme Comes To Life As A Spectacular Statue
Spider-Man's most iconic meme has been lovingly recreated with a new figure.
A replica of the statue released by Iron Studios faithfully captures the beloved 1960s Spider-Man pointing meme Spider Man cartoon. The 1:10 scale figure features a single Web-Head raising his right arm and pointing his finger. Unfortunately, fans will have to purchase two figures to recreate the meme at home. Each statuette is made of high quality polystone and stands approximately 8 inches tall.
RELATED: Marvel Just Introduced Spider-Man's Own Version of Batman's Scarecrow
The image is from episode 19b of Spider Man, "Dual identity". The meme uses a famous setting where two people wearing identical Spider-Man costumes are pointing at each other. In the episode, the villain, Charles Cameo, possesses the ability to look like anyone, an ability he uses to commit various crimes. The captured moment depicts Spider-Man's confrontation with Cameo as he poses as none other than the friendly neighborhood web-slinger.
The famous snap began gaining notoriety online in the 2010s, with social media users sharing it to poke fun at oddly similar situations or people, usually to humorous effect. On February 23, 2022, Tobey Maguire, Andrew Garfield and Tom Holland recreated the meme for a photoshoot to promote Spider-Man: No Coming Home, which saw the three actors unite for the first time through the multiverse.
RELATED: Green Goblin's Terrifying Costume Has a Traumatic Origin
The 1960s Spider Man the cartoon is celebrated by fans of all generations for being the first anime adaptation of The Amazing Spider-Man comic. The show is widely recognized for its catchy theme song "Spider-Man, Spider-Man Does Everything a Spider Can" composed by Paul Francis Webster and Bob Harris quickly became synonymous with the character. The series was produced by Robert L. Lawrence and Ralph Bakshi and originally aired on the ABC television network.
The series' relative rarity in modern times adds to the nostalgia appeal surrounding Spider-Man's maiden voyage to animated television. Apart from a few scattered episodes on VHS and DVD, the entire series would not be compiled until 2004. Buena Vista Home Video released all episodes on DVD as Spider-Man: The 67 Collection. The 6 DVD set has since sold out.
All Iron Studios figures are individually hand painted and licensed by the rights holder. The figure retails for $161.99 and is available for pre-order from Entertainment Earth.
Source: Iron Studios via Entertainment Earth