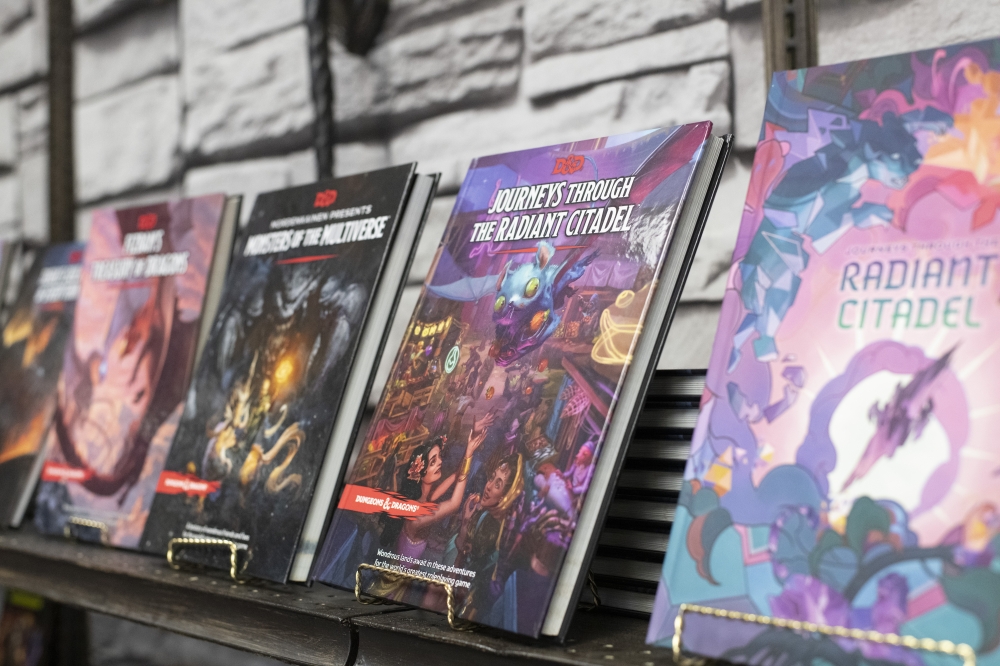 The Stafford Golem's Gate shop offers tabletop role-playing games for all generations
Dungeons & Dragons, Pathfinder, Starfinder, Shadowrun, and Dungeon Crawl Classics are just a few of the favorite role-playing games, RPGs, that are catching the attention of people of all ages, cultures, everywhere.
The most played RPG, Dungeons & Dragons, is played almost every night of the week at Golem's Gate in Stafford. If compared to the early versions of the game that came out in the 1970s, the game has changed significantly.
The game was first introduced with more math, graphics, and complicated variables; however, the new editions have been redesigned for a quicker introduction to the game and are easy enough for kids, said Golem's Gate owner Jason Keller.
"Trust me. You sit down within 20 minutes, you get it, and after an hour you're hooked," Keller said.
Keller said he and his wife, Tama, and son, Christian, opened Golem's Gate in 2017 to give everyone in the RPG community a place to play.
During each game, players gather around a table for 2 to 4 hours at Golem's Gate. Using their imaginations, players follow the game master who guides them to work together for a cause in an imaginary world. Sometimes terrain, figurines and maps can be used to illustrate the adventure.
Keller believes these games create a safe environment to be collectively creative.
"Shared creativity is something we need more of because it helps build a bigger community," he said.
There are no restrictions or age limits on who can play these games at Golem's Gate. Keller said everyone is welcome.
"We live in a time where you don't have the stigma of the 70s. We're a community of geeks, a community of pop culture. It's not something people are ashamed of," he said. declared.
The games take place every day, except Sunday. Matches start between 6 p.m. and 7 p.m. until 9 p.m. and 11 p.m.
Golem Gate
4645 S. Main St., Stafford
281-265-6050
www.meetup.com/golemsgate
Opening hours: Mon.-Thurs. 4.30pm-9pm, Fri 4.30pm-11pm, Sat 12.30pm-11pm, Sun. closed
How to play
In Dungeons & Dragons, players are seated around a table, where one player assumes the role of dungeon master while others control a single character, representing an individual in a fictional setting.
Before playingeach player creates their character and details their abilities, species, profession, moral alignment, and other story elements.
Games begin with the dungeon master describing the environment, where the players are and what's around them.
During the gameplayers describe their character's actions and discuss with the game master, who describes the outcome or response.
As the game progresses, each character changes over time and increases their abilities. Characters gain or lose experience, skills, and wealth or gain additional character classes.