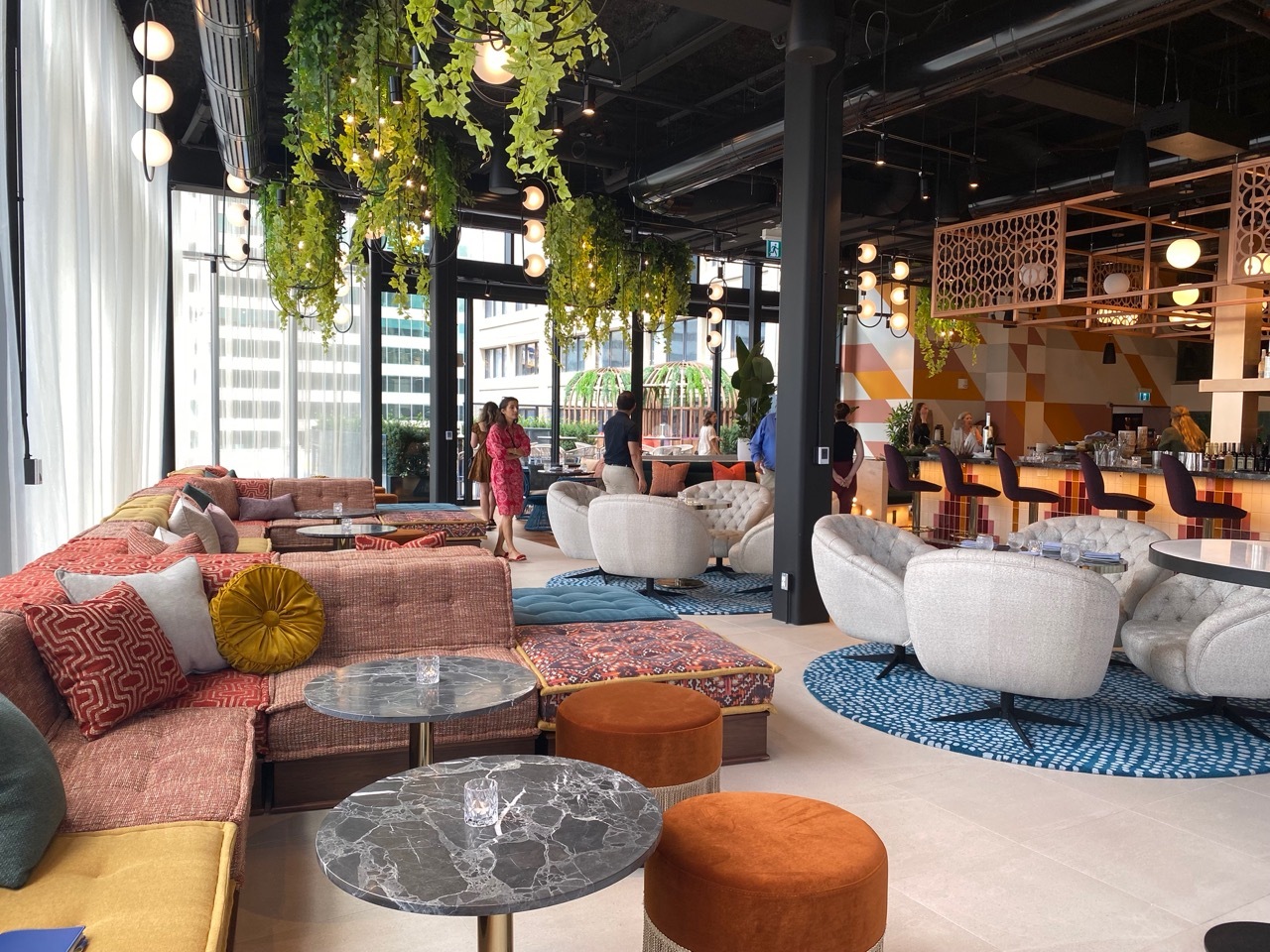 The W Hotel Toronto opens its doors to unique interiors
The W Hotel Toronto held its grand opening yesterday at 90 Bloor Street East, part of the mixed-use complex on the northeast corner of Yonge and Bloor. Offering a glimpse of the stunning interiors and unique social spaces it offers hotel guests and Torontonians, the location is only the second W hotel in Canada. Part of the Marriott International group of hotels, the W brings a splash of color inside and a stylishly updated exterior — especially at night when plenty of lights highlight its street face — to the sprawling resort.
The new exterior and new spaces are designed by Alliance architects. Facing Bloor Street, this means a cover of a mundane brutalist wall with staggered raised panels on a white planar background, etched at night by strips of LED lighting, and punctuated by a glowing orange elevator that shuttles behind translucent panels, transporting guests to the entry level rooftop bar and restaurant. (There is no view of the street from inside the elevator.)
W Toronto's bright orange exterior and external elevator, image by Craig White
From street level, the "public school" is accessible. The cafe, kitchen and bar are alive with barista culture by day and bar-inspired fare by night.
W Toronto Public School, image by Craig White
The avant-garde menu is served on two levels, accentuated by interiors designed by Montreal's Sid Lee, featuring funky and colorful late '60s/early '70s-style seating.
Also around the hotel are bear figurines created by [email protected] of Japan. Bearbrick has been a unique vinyl toy and sought-after collectible since it was first released approximately 21 years ago. The playful figurines found at W Toronto are particularly unique, as they feature artwork, licensed from the Andy Warhol Foundation, of the late Jean Michel Basquiat, whose work remains relevant today given social climates and policies around the world.
BEARBRICK x Jean Michel Basquiat, image by Craig White
Going up to the sixth floor, we find the lobby/living room, which W calls the "Living Room" in places around the world. Highlights of the W Toronto's 5,000 sq. ft. custom space, meant to evoke 1970s Yorkville, include a communal foyer, a circular bar offering "Toronto Tapas" – bite-size pieces to share that were created to represent the diverse neighborhoods of the city.
Living Room bar and lounge, image by Craig White
Canada's first W Sound Suite, the hotel's one-of-a-kind recording studio, is also located on this level. Located across from the living room, the Sound Suite is equipped with professional recording equipment where musicians, podcasters and others can create.
The Sound Suite, image by Craig White
The living room also offers access to "The Yard", an outdoor courtyard terrace surrounded by five stories of guest bedroom windows.
The Court, image by Craig White
The W Toronto has 254 rooms, including 30 suites, two of which are "Extreme Wow" or two-story presidential suites. In the bedrooms, "floating" beds are underlit with warm, glowing light and set in front of a sapphire velvet curtain that can be opened or closed with the press of a button.
Underlit guest bedroom bed at the W Toronto, image by Craig White
Design touches in the rooms include curved banquettes for lounging, dressing-style mirrors, and a full-service cocktail bar. Each room is also equipped with a clothes steamer.
Guest suite at the W Toronto, image by Craig White
The W Toronto's 3,300 square foot FIT Gym is designed for guests to focus and rejuvenate. The space includes a yoga and barre room…
Yoga room and bar, image by Craig White
…as well as a weight room and a cardio room with fresh tap water.
Cardio room with water on tap, image by Craig White
Finally, heading to the 9th floor, after exiting the elevator to the street side, we arrive at "Skylight", the hotel's rooftop restaurant and bar. Offerings include signature cocktails and Mediterranean-inspired cuisine.
Skylight rooftop bar and lounge, image by Craig White
Views from the oversized windows and open terrace provide a look down Bloor Street. In addition to the main venue, with its late-night DJ booth and performance stage, Skylight offers "The Loft" for semi-private events…
The Loft, image by Craig White
… "The Den," an intimate seating area, for people-watching, and "The Terrace," with high tops or cozy birdcage-style booths.
The terrace with birdcage-style seating, image by Craig White
You can learn more about the W Toronto from our database file, linked below. If you wish, you can join the conversation in the associated project forum thread or leave a comment in the space provided on this page.
* * *
UrbanToronto's new data research service, UrbanToronto Pro, offers comprehensive information on construction projects in the Greater Toronto Area, from proposal through completion stages. Plus, our subscription newsletter, New Development Insider, drops in your mailbox daily to help you keep track of projects through the planning process.v
| | |
| --- | --- |
| Related companies: | architects—Alliance |