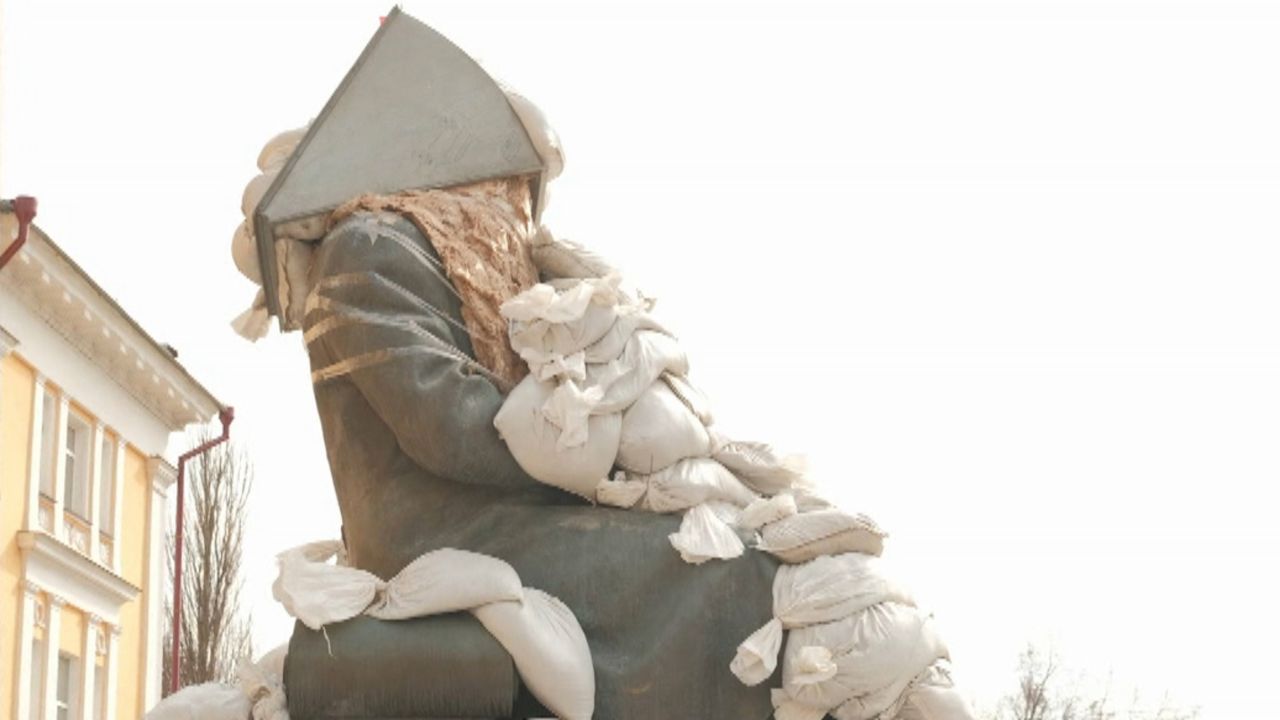 Ukrainian art and historical monuments under threat
LOS ANGELES — For 93-year-old Ukrainian-American Rita Deshko, Ukrainian art and design are home. Her home in Los Angeles is filled with Ukrainian pictures, books, embroidery and figurines. She did much of the art and decorating herself.
"When I came home from dinner, I was sitting here watching TV and embroidering," she recently said, sitting in her light-flooded living room.
Deshko's family had to flee Ukraine before World War II and became refugees in Germany. It was there that she first learned how to sew traditional Ukrainian designs onto clothes and fabrics.
"I was a teenager in Germany and we called her grandma," Deshko said. "She was a little lady. To us she was an old lady, but that wasn't really. She taught us how to embroider. We went to see her every Saturday and she taught us. My sister didn't succeed. But I did!"
Deshko and her family immigrated to the United States in the 1950s and she continued to hone her skills creating Ukrainian folk art. She started making intricate Pysanky – traditional Easter eggs decorated with colorful patterns and flowers. She bought plates and woodwork to display on her walls.
For Deshko, Ukrainian art is intrinsically linked to his identity.
"It tells me who I am, it tells about our culture, it connects me to something," she said.
But many markers of Ukrainian culture: museums, buildings and historical monuments are, like the whole country, threatened. The Ukrainian Cultural Foundation monitors cultural monuments that have been damaged or destroyed so far during the war. At this point, they count more than 150 "monuments and cultural objects" which have been partially damaged or destroyed by the Russian attacks.
Sasha Razor, a curator and researcher specializing in Belarusian and Ukrainian art, said the effects of the war on Ukraine's art community will likely be felt for years. "It's not just the collection or the archives that have disappeared. It's not just the building that was damaged. It is also the community and the people who support it. Some museum employees could take up arms and go to defend their country. said Razor.
And while millions of people have had to flee to neighboring Poland and European countries, people in the country are still doing what they can to protect historic monuments and buildings. Sandbags and fortifications were put in place to prevent shelling and shelling from destroying the landmarks.
"Ukrainians are very attached to their public art," Razor said. "They have so many things to do right now, they have to save their children, cats, dogs, mothers-in-law. Nobody tells them 'we need five volunteers to put sandbags around the statue.' They just know they have to do it and they do it."
For Deshko, Ukrainian folk art and traditional embroidery have kept her connected to her homeland – and traditions passed down from generation to generation.
"It's the story of the land, which I can show, it's my country. It belongs to my country," she said.